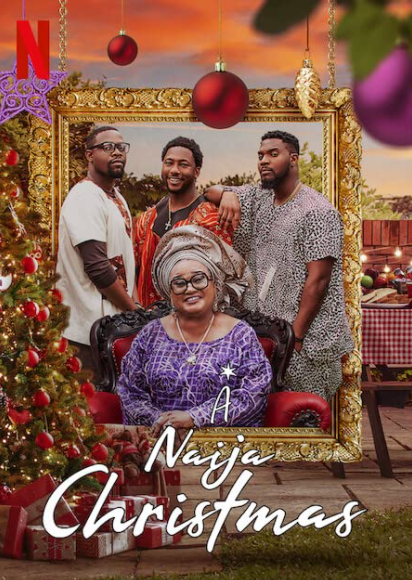 Bored of the same classic Christmas movies on repeat every year? Give "A Naija Christmas" a try. The movie had minimal hype after Netflix released the trailer; but it has now become the top ten most popular movies on Netflix.
The romantic comedy adopts typical Christmas themes like family and faith with a modern perspective, resulting in a heartwarming holiday movie. Critically-acclaimed Nigerian director Kunle Afolayan does a stellar job at creating a Christmas movie that appeals to not only Nigerans, but to people of all backgrounds.
The film covers the romantic endeavors of three brothers and provides a window into their failing relationships. The mother Agatha Agu (Rachel Oniga) wants to have grandchildren, so she offers the family's gigantic Lagos estate to the brother who manages to get married first. 
Ugo (Kunle Remi), the eldest brother, is the most dead set on winning the estate considering how he's in debt to the local loan shark Tony Torpedo (Lateef Adedimeji). Obi (Efa Iwara), the middle brother, has his own love life problems. His girlfriend/boss rejected his marriage proposal, which launches him onto a quest to get her back. The youngest brother Chike (Abayomi Alvin) doesn't desire the family estate at all. 
The primary language spoken throughout the film is English, but Yoruba and Pidgin are also in there. Afolayan's decision to include these languages instead of just English not only makes the movie more realistic but also accessible to Nigerians and English speakers. 
The stellar soundtrack reflects the diversity of languages in the film. Scored by Afolayan Anu, it places classic Nigerian carols alongside modern American pop. The variety of the songs only multiplies the accessibility of the movie. 
Agatha Agu is the best part of the picture; she embodies the strict African parent stereotype and her displeasure with her sons' love life brings some hilarious scenes. Watching grown men hassle themselves to grant all of their mother's wishes is extremely sweet and adds onto the overall jolly Christmas vibe of the film. 
Although the main characters of the film are extremely wealthy and all have steady jobs, that doesn't accurately represent the lives of most Nigerians. Afolayan also includes many scenes in the impoverished areas of Lagos; the contrast between the brothers' lives and the lives of the villagers sparks an interesting dialogue between characters on classism.  
The movie does a great job at getting the viewer in an appropriately jolly mood with a twist of Nigerian culture, giving an inside look at what Christmas looks like in Lagos. It introduces a refreshing and new perspective on Christmas, while still being touching and comical. Hopefully this film inspires more people to take on perspectives from different ethnic backgrounds on the beloved holiday.